Forgive my delay in writing about our recent "baby moon" to Vietnam. It's been a whirlwind of a couple weeks since being home and quite honestly, my creativity just hasn't been flowing….I think my mind is too caught up on baby prep stuff! In any case, here is part 1 of our baby moon in Vietnam- city wanderings in Ho Chi Minh City. Part 2 will follow of our beach time spent in Nha Trang. Enjoy!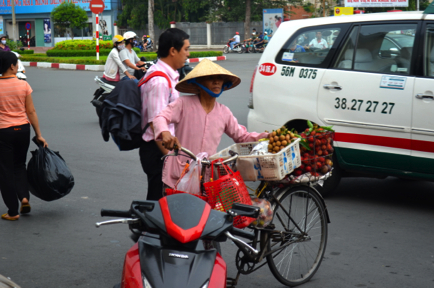 Ho Chi Minh City (HCMC), Vietnam, located in the southern most part of Vietnam, is also widely known as Saigon to both locals and tourists. It was once the capital of the republic of South Vietnam, until its fall back in the 1970′s to the communist North Vietnamese, which is how it stands today, a communist country. It boasts the largest population in the country, topping out at whopping 9 million residents! And let me tell you, its apparent on every street you find yourself on, it is so crowded.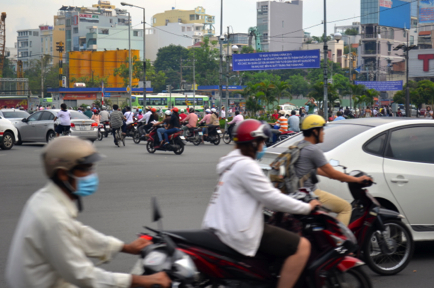 Vietnam is quite diverse, from the Northern parts of Hanoi, to the southern parts of Saigon. Another interesting fact is the influence of the French culture in Vietnam, due to the history of the French, dating back into the 1800′s within Vietnam's borders, leading up to the mid 19070′s. You will find the French influence in the architecture, the cuisine, & the fashion.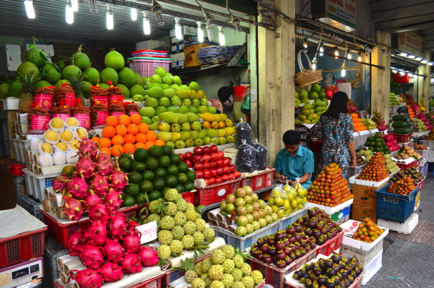 We found ourselves in HCMC for about 48 hours on the first leg of our highly anticipated "baby moon". What I have always loved about the Vietnamese culture are the food & the coffee…so I couldn't wait to get my hands on some truly authentic stuff, not the stuff imported into the USA. I've also been curious to learn more about the US involvement in the Vietnam War, since it was such a huge part of my fathers' & their friends' lives. Our end game was to veg out at the beach in Nha Trang, Vietnam  for 4 days but since there were no direct flights from KL, we had to pass through HCMC and thought that we may as well take advantage of being there for a couple days to check out the food, coffee, and war museums!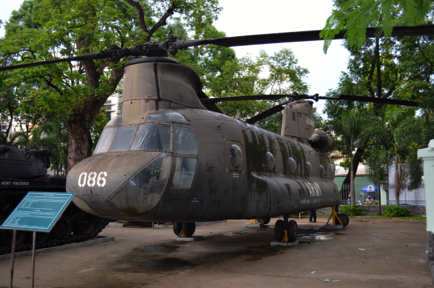 We arrived on a Friday afternoon to the hustle & bustle of the international airport. The first and most important thing you should know about Vietnam is the process of getting a tourist visa and actually this is something you need to know before arriving into the country. There is a great website called My Vietnam Visa, where you can go online and apply for your visa ahead of time, saving you time at the airport upon arrival into the customs hall. Vietnam prefers visa money is USD cash, but will also accept Vietnamese Dong currency. All other currencies may be accepted, depending on the customs official, but be warned, they will hike up the rate if they chose to accept it– you are at their mercy!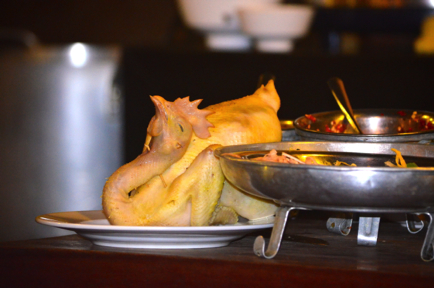 Anyway, once all was said & done, we got a car to take us to our hotel- the Hotel Nikko, located in the business district of HCMC. The airport is located about 45 minutes outside of the city, but it goes quickly as you sightsee from the comforts of the aircon cab- LOL. HCMC is divided up into districts, with district 1 being the main tourist hub. We stayed on the edge of district 1, just near district 5 (the numbering sequence of the districts make zero sense to me). We got a screaming deal on the hotel room through Agoda, but in the future, I think I would prefer to stay a bit closer to the tourist area, located about a 15 min taxi ride away from Hotel Nikko. The hotel itself was beautiful & they do offer complimentary shuttle services throughout the day to the popular tourist stops. A Japanese company, Hotel Nikko was beyond comfortable and had all the amenities and service one could ask for…again the only downfall being its location to the tourist parts of the city. That being said, the hotel concierge was fantastic at directing us to all the important spots as well as a few off the beaten path restaurant recommendations!
Due to being 30 weeks pregnant, I wasn't able to do 2 of the most highly rated ways to experience HCMC– street food & tour rides on a scooter….but we did see and do quite a lot nonetheless. Traffic in HCMC is insane so the best way the locals have found to get around is via scooter, which you will find lining the streets. On all the wide streets you will see literally hundreds of scooters zipping through the traffic, and they don't stop for anyone. Its crazy!! But yet, they are still so civilized about the whole thing. And its not just adults who ride them, you will find families of 4 or even 5 all packed onto a tiny scooter….with the infant being strapped to the mom (and no helmets either!). You will find pregnant women on them, old, young, business travelers and sightseers. It's quite the show, really. And when you need to cross the street as a pedestrian, you just start walking and the scooters will zip around you….don't slow down or speed up….just go with the traffic flow. It's a bit manic but a fun experience!
Friday night we were directed by our hotel to a fabulous restaurant called Ngon.  The concept of this place was to offer authentic Vietnamese dishes, both from the northern and southern parts, via fun little tables set up along one side of the restaurant where diners could view the dishes being made before ordering. We thoroughly enjoyed the food as well as the awesome setting, being outside amongst the trees and streets of HCMC. After we walked down the street just a couple blocks to the famous Rex Hotel to experience their rooftop garden bar. This is one of the top things to do in HCMC and I can see why. Although the hotel is not more than 10 floors high, their rooftop terrace is gorgeously done, with a nice open bar and stage for nightly live performances. It overlooks the upscale streets of HCMC's tourist district and is a fun way to spend the night with a couple drinks, viewing the crazy traffic from above.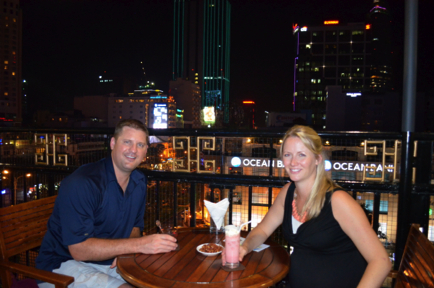 Saturday morning we set out for Pho- my all time favorite Vietnamese dish, served morning till night. Growing up in Seattle, WA where there is a large Vietnamese population, as well as crummy weather much of the year, Pho has always been a popular dish to warm up from the cold PacNW air. However, funnily enough Vietnam is tropical much of the year, but yet they devour Pho like no other. Pho is a noodle based soup, arguably derived from the French influence in Vietnam. Its mainly serviced either with thin cuts of beef or chicken. Anyway, I couldn't WAIT to get my hands on some good authentic Pho and we found just the place. Our hotel directed us to a small mom & pop shop just on the outskirts of town called Pho Le, located in district 5, about a 5 minute cab ride from our hotel. Wow, it did not disappoint. Highly local & a basic no-frills setting, they served up some mouthwatering Pho for us both. What a perfect way to start the day!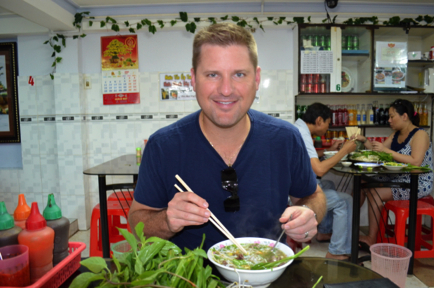 After we headed over to the central area of district 1 for some sightseeing. HCMC is quite walkable, with much of the attractions being within a 5-10 block radius….good for the pregger gal who can't hop on the ever-popular mode of transportation- the scooter (darn it!!). We started out at the stunning HCMC Central Post Office.  Built back in the French colonial days of the 1800′s, its a gorgeous piece of architectural history, both inside & out. It also sits kiddy corner to the famed Notre Dame Basilica (yes similar to the one in Paris, also built in the 1800′s). Although we happened upon the basilica while it was closed for a few hours, we did get some spectacular pictures of the outside, as well as being in the right place at the right time! There were 2 different photo sessions of wedding pictures going on in front of both the Basilica as well as the post office. One of the brides wore the traditional white gown, but the other was in a fabulous & traditionally Vietnamese vibrant red gown.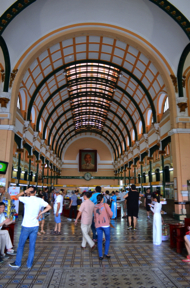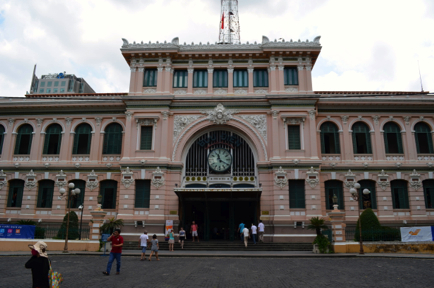 From here we walked down the high-end Dong Khoi street towards the City Opera House. Again, it was not open and we were not lucky enough to see a show the 2 nights we were in town, but it was a beautiful building to take a peak at anyway. Plus the added bonus of strolling down the fancy Dong Khoi street where you will find all the luxury retailers, French sidewalk cafes, and high end hotels; it was a fun way to pass an hour.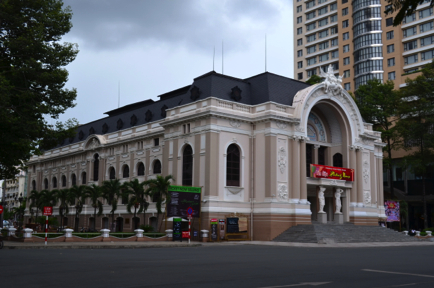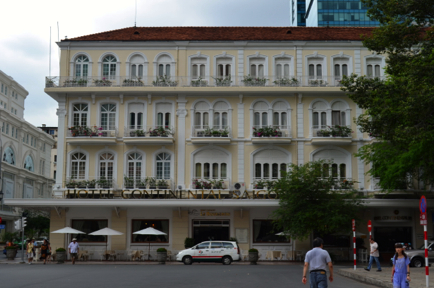 As per the usual in tropical environments, the weather quickly shifted and we had to rush into a cute little coffee shop- Cafe May, to stay dry. What a fun way to pass an hour along the busy streets of HCMC with all the crazy scooter drivers trying to get out of the rain….plus by then we were hungry again and right next door was more Pho at Pho 24! Pho 24 was more of a chain and thus lacked that added touch of a home cooked meal, but it was delicious anyway….plus a total score- 2 Pho dishes in 1 day…..and not even 2pm yet!
And side note- have you ever tried Vietnamese Coffee?!?! If you haven't, you are truly missing out my friends. Trung Nguyen is the top brand in Vietnam but you can find a whole plethora of coffee beans at all the markets and at various coffee shops around town. What makes it so delicious is 2 fold- the first is the quality of the beans….super fresh and very strong! Second is the delicious sweetened condensed milk that its paired with- you can enjoy it hot or iced. BOTH are out of this world. Love love love. We bought some whole beans and some of their handy little individual drip filters to go with it to enjoy at home. All we have to do is buy the milk. Perfect pick me up! And the Vietnamese also pair the tasty milk treat to a variety of teas as well for the non-coffee drinkers.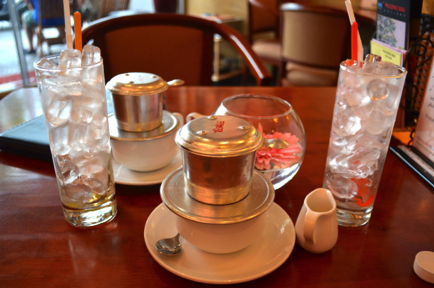 Anyway, after the rain stopped, we soldiered on towards the must-see War Remnants Museum. Luckily our path took us through a gorgeous park, where the trees were lush and people were lounging or walking/running through the trails. A serene stop in a big city. In any case, we were super excited to check this museum out. Now, let me state first and foremost that we are typically NOT museum people, but being American and being in Vietnam where many of our dad's generation came and fought an ugly battle for some time, we just had to see what it was all about. I admit, I don't know much about the Vietnam War, except that we lost and that, in general, the American public was against our involvement. I won't go into the details of the war but I will say this about the museum, it was extremely interesting and enlightening, and all geared towards the American involvement in the war. It also doesn't paint the best picture of the USA throughout the war, mostly due to this museum being obviously funded by the communist Vietnamese party (who ultimately won the war). It was 3 stories high on the inside, and also housed many USA fighter jets, tanks, and more on the outside. David and I learned so much that we didn't know, and I walked away feeling so sad about the whole war. Obviously I can't believe everything this museum states, but then again, can I believe everything the American media states? All I know was that it was a horrendous war and so many lives were lost, on all sides. It was an afternoon to remember.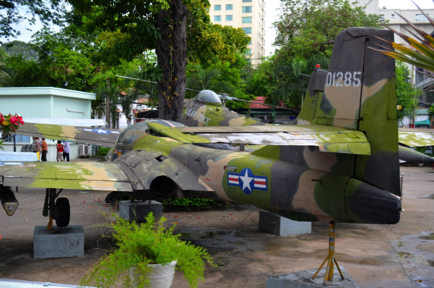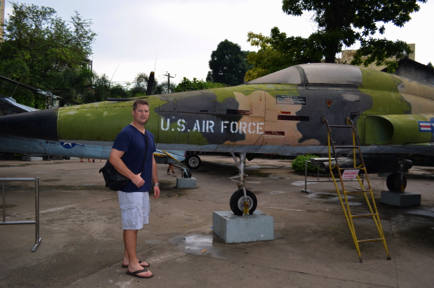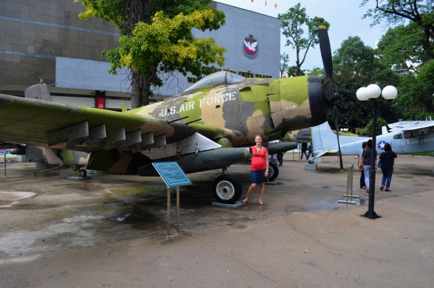 After some rest and recharging time, we headed over to the historical Cho Ben Thanh Market to check out the street finds. This market's building is one of the earliest surviving structures of Saigon and houses trinkets, clothes, food, and more. Beware they are NOT shy and will pull & tug on you to look at their goods. Be watchful of your valuables! After purchasing some coffee, we headed over a couple blocks to check out Saigon Square, where it's more of a cross between a shopping mall and a market. Nothing to exciting for us to find, but fun to browse through for a bit.
For our final meal in HCMC, we headed back over towards the Rex Hotel to the SH Garden restaurant, who also has a rooftop-like sitting area above the busy streets. Tons of local Vietnamese dishes were on the menu and we just ate tapas style till we were stuffed.
What a fun-filled 48 hours in HCMC! So much to see and do in Vietnam's largest city, but the heat and the wandering will take all that you have. I'm looking forward to going back when I'm not pregnant to check out the old war tunnels, street eats, and scooter rides!
** A word of caution: we let our guard down because we felt safer than we do in KL, but it was a false sense of security. On our way to the war museum, we were casually strolling along, not paying much attention to our surroundings, and suddenly 2 men on a scooter drove past us and tried to rip my husband's necklace and sunglasses off him!! They did not get anything and sped away, but it definitely brought us back to reality….never, ever let your guard down. Lesson learned my friends. 
Until next time, safe & happy travels!
Kimbra
If you enjoyed this article, please consider sharing it!
See what we've been up to!