Koh Samui, Thailand- Mission: relaxation complete.
What can I say about this year's Chinese New Year celebration holiday?! It was without a doubt the most relaxing holiday we have ever been on, well maybe just a close second to our 2012 Christmas holiday to the Maldives!

This in fact marked our second trip to the beautiful Thailand island- Koh Samui. You can read about our first trip here. Due to David conducting a bit of work for the first part of the trip, along with having a little 7 month old in tow, made getting out and about exploring a bit tougher than usual. However, I was not worried in the least. I had a villa (we were upgraded!!), a view, the ocean, a pool, room service, my hubs, and my babe with me. Life was heaven on earth for a whole 8 days! I read, I slept, I swam, I ate, and I played with my girl. Such a fun week away from the hectic city life that is Kuala Lumpur.
Due to David's work portion of the trip (work in Koh Samui….life ain't bad I tell ya! LOL), we needed to stay in a hotel that would accommodate his work needs of multiple rooms, a big conference style meeting room, and group dinners. After narrowing down our choices and contacting a few select resorts, the magnificent Tongsai Bay Cottages & Hotel came out the winner!
If you are looking at Koh Samui as a clock, the Tongsai Bay is located at about 1 o'clock. Its halfway between the crazy and popular Chaweng Beach (where we stayed last time) and the quaint Bophut Beach. Because the resort is located within a cove with its own private beach, this is not the place to choose if you want the ability to walk around to restaurants and shops outside of the resort. However, both tourist beaches and the airport are a quick 10-15 min taxi ride away. If you are looking for peacefulness, rest, relaxation, and great service, then Tongsai Bay is just for you!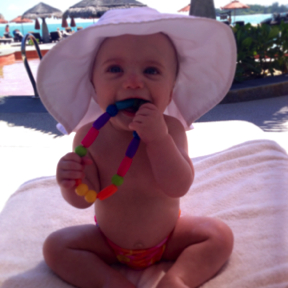 I cannot say enough good things about this resort. Upon check in, we found that they upgraded us to the Grand Pool Villa for our entire 8 days stay! What a shock and oh so decadent :). The villa worked out to be absolutely amazing given David's work schedule, Ava's nap schedule, and my sanity. We had a private pool, an outdoor living area with small kitchenette, and an indoor grand bedroom and bath. Heavenly. The food at the resort was fantastic- a great blend of both asian and western cuisines and the staff was top notch! The resort itself is situated in a private cove so all the villas are set against a hill- which means lots of hills and walking but between a great form of exercise and little golf carts, you can get around easily enough. The pool is gorgeous and the beach clean and inviting. This is one of the top 3 favorite places we have stayed in all of Asia thus far! Here are some pics of our villa:
Beyond complete relaxation we also had a fun outing with David's team. There is a new wave of entertainment in Koh Samui called Football Golf (or soccer golf for us North Americans). Football Golf of Koh Samui was located quite close to the resort and was a fun team-building exercise as well as a nice break from the normal beach activities. It takes about 2 hours but beware, there are a TON of mosquitos around so bring your repellant!
Another fun outing was the Fisherman's Village- Bophut Beach. One night we all dined on the beach alfresco style at Happy Elephant– delicious thai cuisine and the ambiance could not have been better! Another day we strolled around the village shopping around at cute baby and women's clothing boutiques , my favorite being Saona women's clothing. Capping off that fun day we indulged in freshly made pizzas from an outdoor pizza oven at Classico Restaurant, washed down with delicious mai tai cocktails. Could not be any better!!
Near the end of our stay the resort had a special Lion Dance Celebration for the Chinese New Year festivities. What fun!! An amazing show was performed and we all loved the conclusion to our fabulous week in Thailand.
Well that about sums it up folks, not too much to say this time around as we truly just relaxed and indulged in some down time before another crazy year starts yet again.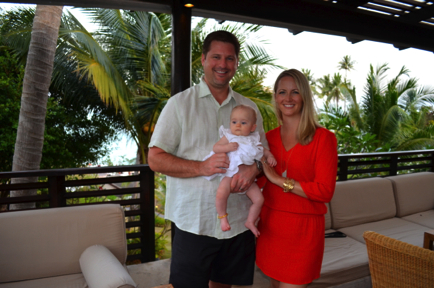 Until next time, take care of yourselves~
Kimbra
If you enjoyed this article, please consider sharing it!
See what we've been up to!