Currently viewing the category: "Korea"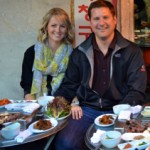 We've survived the hustle & bustle of Seoul, Korea & here is what I have learned about Seoul & of Koreans in general thus far:
Korean BBQ is probably one of the best dishes I have ever tried- its phenomenal. Korean sushi rivals Japanese sushi, no joke. Koreans […]
Continue Reading

→
See what we've been up to!