Currently viewing the category: "Thailand"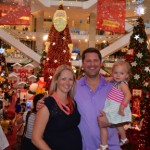 I know, I know…..it's way past the time of being "fashionably late" in writing about the recent holiday season of 2014, but lets be honest, when was the last time a 3rd trimester mom of a 17 month old was on time for anything?! Let alone remembering her own name! So there ya go, my […]
Continue Reading

→
See what we've been up to!