Currently viewing the category: "Germany"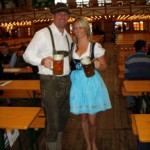 Prost to Oktoberfest in Munchen, Germany!
We decided to head to the original Oktoberfest in Munich, Germany while we were still (somewhat) young and kidless. What an experience and wow, the Germans sure do know how to party!! I think we are still recovering 3 weeks later:). Munich is situated in […]
Continue Reading

→
See what we've been up to!