About Us
The "International Nabers"!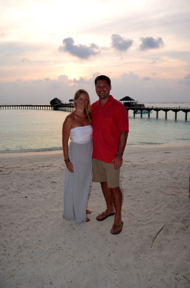 Your "Nabers" are from the USA. Kimbra is originally from Seattle, WA & David is from Tempe, AZ…..we met while living in gorgeous San Diego, CA & then got moved to the midwest- specifically, Indianapolis, IN. We are now excited to be living in Kuala Lumpur, Malaysia for David's job! We originally started this blog with the thought of wanting to share our various travels with our friends & family, especially since we live far away from most of them. It's now starting to evolve into so much more…..expat info, travel advice & reviews, personal struggles & successes- what a ride!
First and foremost, we want to let you all know that we have such an intense love for travel. We love experiencing new and exciting cultures, interacting with locals, cooking & learning new cuisine, going on wild adventures, (attempting) to learn the languages, all the while relaxing throughout the whole crazy ride! We love thinking about it, planning it, experiencing it, sharing it- really, we love everything about it!
We hope to open up the world to those who either cannot or do not want to travel. At some point, we want to inspire you to get our of your comfort zone and experience something new. After all, how can you appreciate what you have when you don't know first-hand what else is out there? The world is an incredibly gorgeous place. Each corner of the world has their own unique quality and when you add it to your life, you begin to see just how majestic & amazing our beautiful world is….we are all a piece of the puzzle so play your role today!
One last note.
A great quote from Socrates that is widely used at Thunderbird (where David received his Masters in International Business Management) reads like this: "I am neither Greek nor Athenian, but a citizen of the world."
See what we've been up to!