Currently viewing the category: "Boston"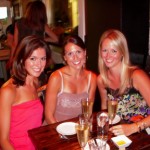 About a month ago, (yes, I am trying to play catch up with this blog!) I was fortunate enough to spend the weekend in Boston with 2 very dear friends of mine. Ann, Juliane, and I were partners in crime back in our college years. The three of us met while studying abroad […]
Continue Reading

→
See what we've been up to!