UnBELIZEable Ambergris Caye!
Recently my husband and I took our very first vacation together- WITHOUT KIDS!! I mean, we had done 1-2 nights without them but always within a quick drive. This trip was 4nights/5days in ANOTHER COUNTRY! Woohoo, over 4 years in the making (including while pregnant with our first cause lets be honest, it's just not the same vacay as when you are truly yourself, lol!), talk about long overdue.
The trip came about as we were closing out a credit card we had used a lot when we lived internationally. We were going to be losing over 350,000 miles/points and well, you just can throw that hard earned freebee away! We realized coupled with not wanting to lose those points, that we hadn't had any time to ourselves since becoming parents, and we had just made it through a very long and hard 18 months and just needed to hit the refresh button, you know what I mean?
So, after researching places that neither of us had been to before, as well as a destination that wouldn't take too long to get to, we settled on the island of Ambergris Caye in Belize! We were able to fly there in 5 hours, transiting through Houston, we were able to use our miles, only paying cash for the international taxes, and we were able to use the remaining miles for hotel, having to pay a minimal amount out of pocket for the 4th night :). What a steal!! The fun part came when we realized we also had to take a quick 15 minute prop plane from Belize International Airport to the island of Ambergris Caye, such fun!
My parents flew out to watch the kids and with light carry-on suitcases in our hand and a small beach bag, we were on our way, holy moly talk about unsettling but totally freeing!
When we flew to the island on our prop plane, they landed in the town of San Pedro, on the island of Ambergris Caye. This island is the largest of the islands of Belize, being 25 miles long and 1 mile wide. There are only about 15,000 residents of San Pedro, the main settlement town of the island. Outside of town, there are random scatterings of resorts, personal homes, etc throughout the island. The Belize Barrier Reef, which runs the length of the island and then some (total of over 150 miles long), is the 2nd largest in the world to Australia's Great Barrier Reef. Due to the island's small size, the main form of transportation on the island is by golf cart, bicycle, or water taxi. Pure heaven if you ask me! The sand was fine and white, the water was crystal clear and the most perfect temperature. The only downside was that because of the barrier reef protection the island, the beaches ended up with a good amount of seaweed washed ashore, but every morning worker were out there scraping it all up. I'm sure it comes in waves depending on the season, etc but due to that, we mostly swam in the pool, except for when we went snorkeling out at the reef.
If I could say one thing about the Belizean people I would say that they are a very warm & generous people as a whole. They are kind, very chill, very hospitable, very proud of their country, and have such a great sense of humor!! The US dollar is widely accepted and the ratio, as of now, is 2:1 Belizean dollar to US dollar. It was a tad more expensive than we were expecting in the form of booze and food, but hey, we were on an island so they had us locked into a corner :).
As far as where we stayed, we chose the CoCoBeach Resort. It was about 3.5 miles outside of the town of San Pedro and was our home base. We didn't want to stay in town because we wanted to just chill out at the beach, but we wanted to be close enough to take a quick bike or boat ride there for lunch, shopping etc. This resort had everything we wanted: a comfortable hotel room (they even had huge top floor suits and detached villas), beach access, clean & modern, several restaurants,  2 Ah-mazing pools- one with super deep water and a huge stone structure with a waterslide though the middle of the structure as well as the ability to climb to the top and jump off, and a very decadent relaxing pool complete with the largest swim up bar I have ever seen (hosted both under a structure as well as in the sun). It was perfection. There weren't even any sidewalks really, it was all covered in sand until you reached the staircases for the rooms, loved every detail. Plus they made it super easy to get a golf cart or bike to rent, plus had the water taxi and snore/dive tours meet us right at their dock. Can't get much more convenient than that!
Without kids, we had the ability to do whatever we wanted, which meant we were mostly in bed by 9pm, up at 6am, took afternoon poolside naps, and generally just did whatever we wanted, it was pure heaven. I seriously think I read like 3 books, and we actually had conversations, Uninterrupted!! We pretty much had breakfast at the hotel every morning, which was not included, and was pretty minimal, but had the basics and thats all that we cared about really. We dined at the poolside swim up bar for lunch or went into town, and typically rented a golf cart and found amazing beachside huts for dinner every night, expect for one night when we participated in a food tour in town. Such a glorious and way too fast vacation away from life!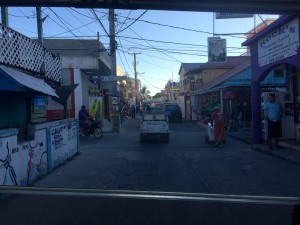 Here's a quick rundown of some of our highlights!
Snorkling Tour (also does diving tours)- Tuff E Nuff Tours (not even making this name up- lol!) We went on the half day tour to Hot Chan Marine Reserve and Shark Ray Alley to see some awesome sealife! We swam with nurse sharks, a variety of rays, a barracuda, and some smaller tropical fish, so much fun! The tour guides were funny and had tons of local knowledge of everything. Highly recommend this company!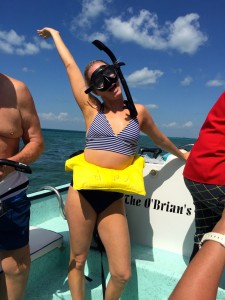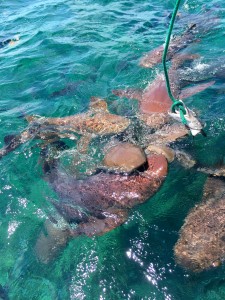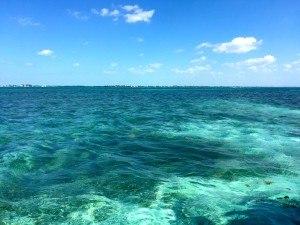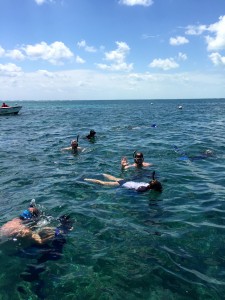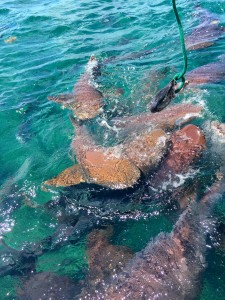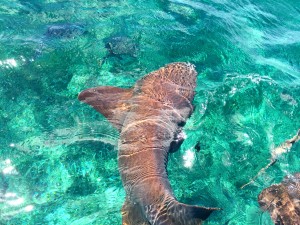 Food Tour– Belize Food Tour was such a fun experience! We chose the dinnertime tour so we wouldn't miss out on too much beach time, haha! Felipe, our guide, and his cousin Dora, run this company. They are both born and bred on the island and know just about everything and everyone! Felipe was super friendly, attentive, took us to AMAZING joints, and also imparted a history lesson, which was a cool addition. 3 hours in length, this tour took us to 4 restaurants, and 1 stop for a rum cream tasting- all amazing stops- most memorable were Pupuseria Salvadoreno & Elvi's Kitchen- 2 musts!! Well worth your time, but a tad pricy, in my opinion. They also offer lunchtime and coming soon, breakfast tours. Such a fun way to eat your way through a country, if you are foodies like we are :).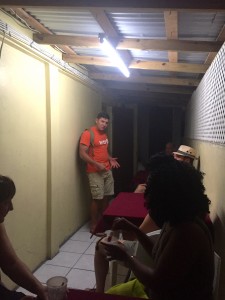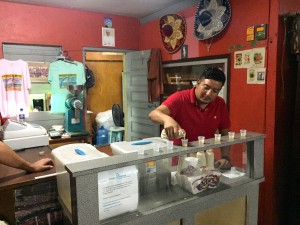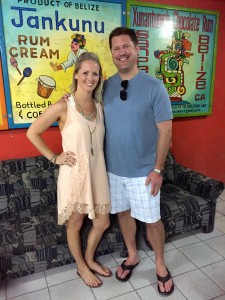 Art Galleries– The Gallery of San Pedro is an adorable little shop tucked away in town. The owner in from America, found his heart in Belize and never left. They have the best selection of Belizean artists, and ship to the states for a nominal price! We found some real gems while there.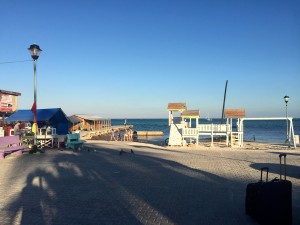 Restaurants-
CoCoBlanca Pool Bar– at our hotel, awesome small bites and great selection of both American and Belizean cuisine. Awesome cocktail menu too :).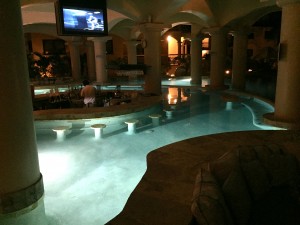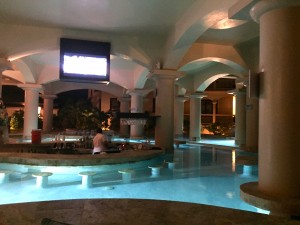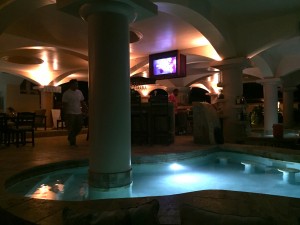 Rain Rooftop Bar– about a mile from our hotel; a great place to stop for some bubbly while watching the sunset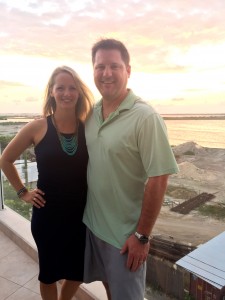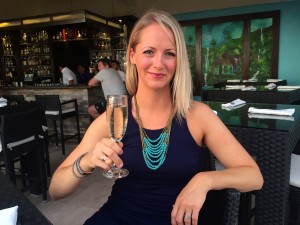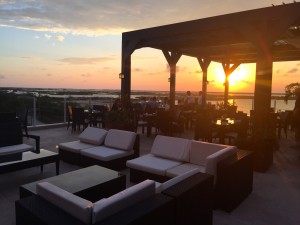 Estel's Dine by the Sea– about 2 miles from our hotel; awesome little sand in your feet place!! Amazing wine menu (plus beer), menu changes nightly……delicious, local, fire pit, live music!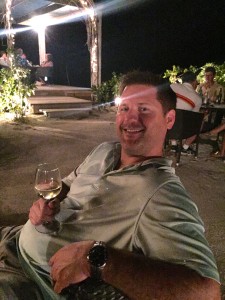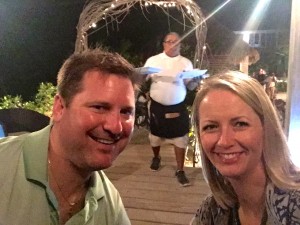 Aji Tapas Bar– about 1.5 miles from our hotel; another sand in your feet option. First must walk through a jungle type lagoon area and then you arrive at a sweet beachside retreat. Delicious tapas, amazing drinks, heavenly date night!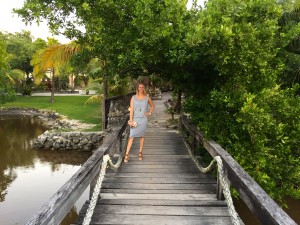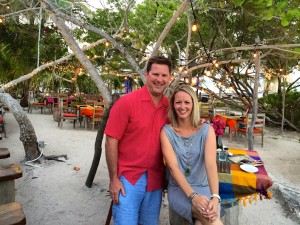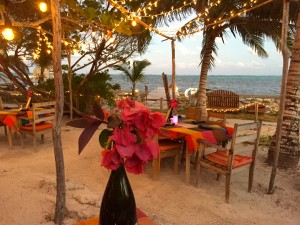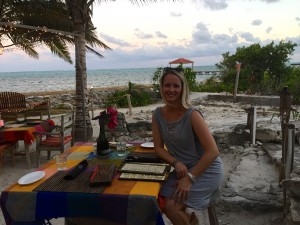 Stella's Smile– beachfront in San Pedro town. Happened upon this place while shopping on our last day. Awesome ambiance, freshest fish plates, thrust quenching beers, great live music…..a must!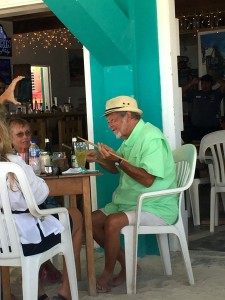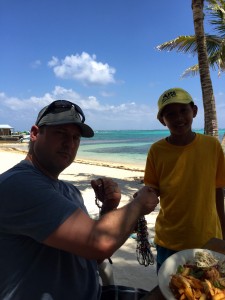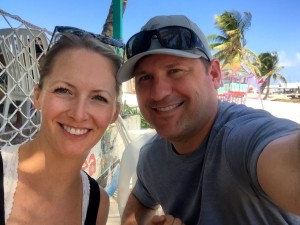 So, obviously we had ZERO fun on this trip, haha! Highly recommend Ambergris Caye in Belize! It's convenient, exotic, relaxing, adventurous, and the best place to escape reality.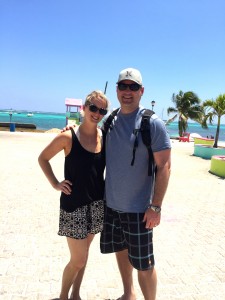 Until next time, treat yourselves to some R&R~
Kimbra
If you enjoyed this article, please consider sharing it!
See what we've been up to!